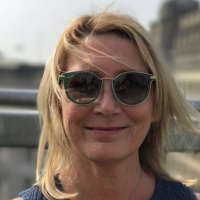 Audrey Davis
Contemporary Romance, Paranormal Romance, Women's Fiction, Humor
Audrey Davis is a Scottish-born former journalist. She has travelled extensively, but has called Switzerland home for the past 16 years. She published her debut romantic comedy novel A Clean Sweep in June 2017. A short, darker prequel – A Clean Break – followed. In November 2017 she released the first instalment of a rom com novella trilogy entitled The Haunting of Hattie Hastings Part One. Part Two was published in March 2018, with the final part scheduled for summer 2018. When not writing/reading and reviewing books, Audrey enjoys cooking, going to the gym and visiting friends and family in the UK.
Recommended Featured Books
"'I'm bored with this,' said Ben, tossing his cards down. 'Can we play something else?' 'How about "Bugger My Neighbour"?' retorted Jack, twisting a tortilla chip into a tub of hummus. 'Don't think I haven't noticed you ogling Mike next door when he's mowing the lawn in those ridiculously tight shorts. Christ, if they were any tighter, his balls would be begging Amnesty International for freedom.'"